Plastic Surface Mouse Pads
A premium quality, durable and precise mouse pad surface.  You will be pleased with the exceptionally detailed graphic print reproduction of these hard surfaced mouse pads.  Available in several rectangular or round sizes.  Custom sizes and shapes available.
Applications: Ideal for intricate designs, small text and accurate color matching.
Materials: Fine-grain textured vinyl plastic, bonded to an anti-skid natural open-cell rubber backing.
Available in low profile 1/16" Superthin™ & 1/8" thicknesses.
Printing options: Full color process graphics (photo quality) or spot colors.  All mouse pads can be set up landscape or portrait.
Templates: Available for download with any of our Standard Stock Sizes.   Custom Shapes and sizes can be ordered.
Counter Mats: Utilize larger sizes to display more information or advertise in a retail setting.
Plastic Mouse Pads Price List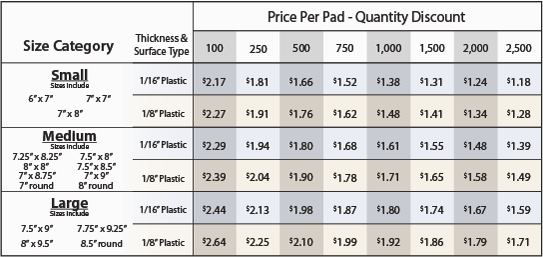 Standard production is 5-8 business days from receipt of print ready art file to date that we ship.
Prices include eproof mock up, a printed press sample on orders of 250 and up, all print set ups
and art layout assistance if needed.
Free ground shipping to one location in 48 contiguous states included on orders of 100 or more.
For Additional Sizes and Quantities, Please Call Us at 1-800-962-8885 or Request a Custom Quote.